2003-10, Scott 3283-5 The Meteorite Shower over Jilin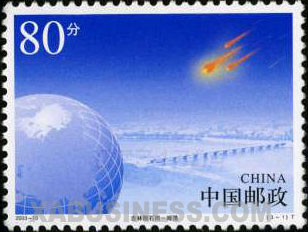 (3-1), Decent, 80 fen, 40*30 mm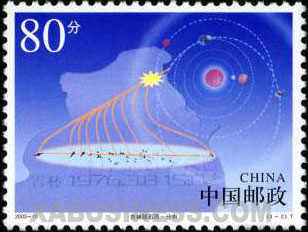 (3-2), Dispersal, 80 fen, 40*30 mm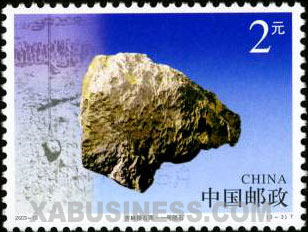 (3-3), Meteorite No.1, 200 fen, 40*30 mm
Technical details
Scott No: 3283-5
Serial number: 2003-10
Values in set: 3
Denomination: 3.60 yuan
Date of issue: 21st June 2003
Designer: Yu Weihua
Size of stamps: 40*30 mm
Perforation: 12
Sheet composition:
20 for sheet I
9 for Sheet II
Printing process: offset
Printer: Shenyang Post & Telecommunication Printing Works
Background
Meteorite shower, known as a "shower of stones" in ancient times, is a phenomenon that occurs when a meteoroid passes through the earth's atmosphere at high speed, producing extreme heat due to friction, and falling in fragments towards the earth. China has the earliest records and research on meteorite showers. The meteorite shower that took place at 15:00 on 8 March 1976 over the northern suburbs of Jilin City, Yongji County, and the outskirts of Jiaohe City, Jilin Province, was recognized as the largest in recorded history, covering as approximately 500-square-kilometer area. Altogether 138 meteorites were collected, weighing 2,700 kilograms in total. Meteorite No.1, weighting 1,770 kg, was the largest meteorite from this shower, and the largest ever found in the world.
Share:

Price List
Item location: China
Ships to: Worldwide
*Shipping (via registered air mail) is based on subtotal of order. See detials below.
| | |
| --- | --- |
| Order Subtotal | S & H |
| $0.01---$15.00 | US $5.00 |
| $15.01---$50.00 | US $6.00 |
| $50.01---$100.00 | US $7.00 |
| $100.01---$180.00 | US $8.00 |
| $180.01---over | US $9.00 |
* 1) for special items shipping and handling cost may be included. 2) Other fast shipping is available.
To special order, please
let us know
what you are looking for. We will help you to meet your unique interests.