2001-4, Scott 3091 Key Wild Animals under First-Grade State Protection in China(II)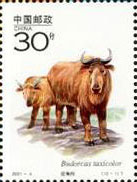 (10-1), takin (Budorcas taxicolor), 30 fen, 30*40 mm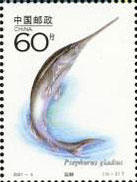 (10-2), white sturgeon (Psephurus gladius), 60 fen, 30*40 mm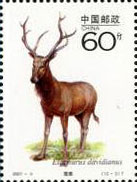 (10-3), P¨¨re david's Deer (Elaphurus davidianus),, 60 fen, 30*40 mm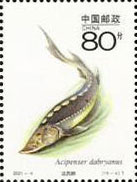 (10-4), Chinese sturgeon (Acipenser dabryanus), 80 fen, 30*40 mm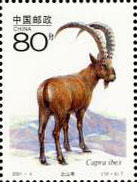 (10-5), ibex (Capra ibex), 80 fen, 30*40 mm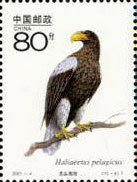 (10-6), tiger-headed sea eagle (Haliaeetus pelagicus), 80 fen, 30*40 mm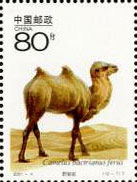 (10-7), wild camel (Camelus bactrianus ferus), 80 fen, 30*40 mm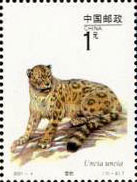 (10-8), snow leopard (Uncia uncia),, 100 fen, 30*40 mm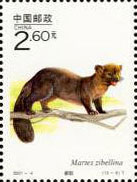 (10-9), Sable (Martes zibellina), 260 fen, 30*40 mm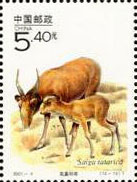 (10-10), Saiga (Saiga tatarica), 540 fen, 30*40 mm
Technical details
Scott No: 3091
Serial number: 2001-4
Values in set: 10
Souvenir sheet: 1
Denomination: 1370 fen
Denomination of S/S: 14.00 yuan
Date of issue: 21st April 2001
Designer: Chen Quansheng
Size of stamps: 30*40mm
Size of S/S: 146*213 mm
Printing process: gravure
Printer: Beijing Postage Stamp Printing House
Background
China has one of the biggest varieties of wildlife in the world. But some of the rare species are on the verge of extinction. To protect them, China has stipulated the Wildlife Protection Law and built nature reserves. With the concern of the whole of society, the environment for their survival has been improved greatly. People are keen for nature and man to coexist, and are convinced that the Earth is the permanent home of both wildlife and humans. The special stamps featuring 10 wild animals issued this time constitute the second set in the series "Key Wild Animals under First-Grade State Protection in China".
Share:

Price List
Item location: China
Ships to: Worldwide
*Shipping (via registered air mail) is based on subtotal of order. See detials below.
| | |
| --- | --- |
| Order Subtotal | S & H |
| $0.01---$15.00 | US $5.00 |
| $15.01---$50.00 | US $6.00 |
| $50.01---$100.00 | US $7.00 |
| $100.01---$180.00 | US $8.00 |
| $180.01---over | US $9.00 |
* 1) for special items shipping and handling cost may be included. 2) Other fast shipping is available.
To special order, please
let us know
what you are looking for. We will help you to meet your unique interests.