2001-5, Scott 3092-7 Ancient Towns in a Region of Rivers and Lakes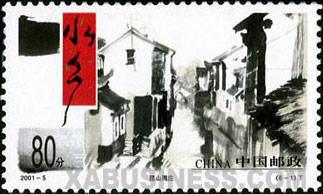 (6-1), Zhouzhuang in Kunshan, 80 fen, 50*30 mm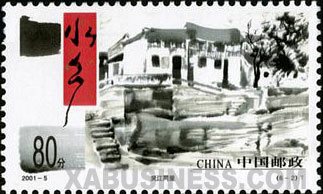 (6-2), Tongli in Wujiang, 80 fen, 50*30 mm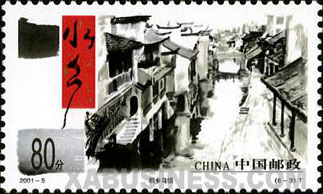 (6-3), Wuzhen in Tongxiang, 80 fen, 50*30 mm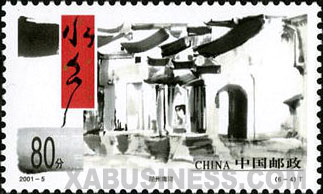 (6-4), Nanxun in Huzhou, 80 fen, 50*30 mm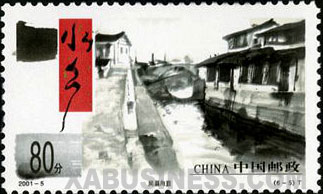 (6-5), Luzhi in Wuxian, 80 fen, 50*30 mm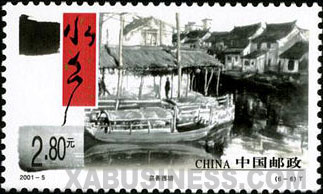 (6-6), Xitang in Jiashan, 280 fen, 50*30 mm
Technical details
Scott No: 3092-7
Serial number: 2001-5
Values in set: 6
Denomination: 6.80 yuan
Date of issue: 7 April 2001
Designer: Huangli
Size: 50*30 mm
Perforation: 12*11.5
Sheet composition: 24
Printing process: gravure
Printer: Beijing Postage Stamp Printing House
Background
State Post Bureau issued a set of six special stamps under the title"Ancient Towns in a Region of Rivers and Lakes" on April 7,2001. Their combined face value is 6.8 yuan and titles are "Zhouzhuang in Kunshan","Tongli in Wujiang","Wuzhen in Tongxiang","Nanxun in Huzhou","Luzhi in Wuxian" and "Xitang in Jiashan".
The Taihu Lake Valley is a famous region of rivers and lakes in the southern areas of the Yangtze River. Several thousand years of history and culture make these ancient towns famous as the Venice in the East. In these ancient towns rivers are crisscrossed. The waterside residential houses have white walls and green tiles. The reflections of the ancient corridors built along the zigzagged river courses and wharves and stone steps on the river are like quiet and tasteful wash paintings. Also these towns are bright pearls of the Chinese civilization with their developed economy and culture.
Share:

Price List
Item location: China
Ships to: Worldwide
*Shipping (via registered air mail) is based on subtotal of order. See detials below.
| | |
| --- | --- |
| Order Subtotal | S & H |
| $0.01---$15.00 | US $5.00 |
| $15.01---$50.00 | US $6.00 |
| $50.01---$100.00 | US $7.00 |
| $100.01---$180.00 | US $8.00 |
| $180.01---over | US $9.00 |
* 1) for special items shipping and handling cost may be included. 2) Other fast shipping is available.
To special order, please
let us know
what you are looking for. We will help you to meet your unique interests.