1998-6, Scott 2850-54 The Nine-village Valley ( Jiuzhaigou )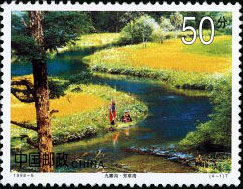 (4-1), Fangcao Lake, 50 fen, 50*38 mm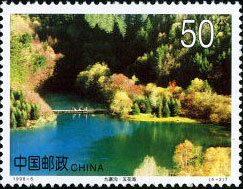 (4-2), Wuhua Lke, 50 fen, 50*38 mm

(4-3), Shuzheng Waterfalls, 150 fen, 50*38 mm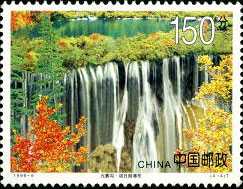 (4-4), Nuorilang Waterfalls, 150 fen, 50*38 mm
Technical details
Scott No: 2850-54
Serial number: 1998-6
Values in set: 4
Souvenir sheet: 1
Date of issue: March 26, 1998
Designers: Li Rongqing; Li Changqing; Zhang Yueju
Size of stamp: 50*38 mm
Size of S/S: 150*85 mm
Size of S/S stamp: 93*52mm
Perforation: 12
Sheet composition: 32
Printing process: offset
Background
The Nine-village Valley ĘC a natural and pure fairy land with green mountains and crystal water.
The Nine-village Valley ĘC a primeval and simple, mysterious and yet fantastic paradise on earth.
The Nine-village Valley, so named because there used to be nine Tibetan villages in the valley, is located in Nanping County in the Aba Tibetan and Qiang Nationality Autonomous Prefecture of Sichuan Province, which is more than 400 kilometers from Chengdu City. Because the nine-village Valley lies in the transition area from the Qinghai-Tibet Plateau to the Sichuan Basin, it has developed unique terrain features and has become a world-famous scenic area of the mountain-water category. The Nine-village Valley is beautiful because it is natural, primeval and full of unexpected changes. Entering the Nine-village Valley, one can take into the eye such phenomena as colourful forest, green lakes, waterfalls and snow-capped peaks. The Nine-village Valley is especially famous for its water, which is crystal and colourful-dark blue, emerald green and indigo blue. When sunshine falls on the water surface, it seems that the former has lighted the ripples of the blue water, shining and dazzling. The water of the Nine-village Valley takes various shapes: flowing silently in the bushes, meandering along the brooks, gushing over boulders and shoals and falling down from atop of rocks. The Nine-village Valley is more than 50 kilometers in length, sceneries as lakes, waterfalls and shoals are differentiating, and the Changhai (Long Sea), the Fangcao Lake and the Nuorilang Waterfalls are the most well-known scenic spots in the Nine-village Valley. In 1992, the Nine-village Valley, as a tourist attraction in China, was listed in the "Catalogue of World Natural Heritages" and thus has become a treasure shared by the entire mankind.
Share:

Price List
Item location: China
Ships to: Worldwide
*Shipping (via registered air mail) is based on subtotal of order. See detials below.
| | |
| --- | --- |
| Order Subtotal | S & H |
| $0.01---$15.00 | US $5.00 |
| $15.01---$50.00 | US $6.00 |
| $50.01---$100.00 | US $7.00 |
| $100.01---$180.00 | US $8.00 |
| $180.01---over | US $9.00 |
* 1) for special items shipping and handling cost may be included. 2) Other fast shipping is available.
To special order, please
let us know
what you are looking for. We will help you to meet your unique interests.