T155, Scott 2305-08 Mount Hengshan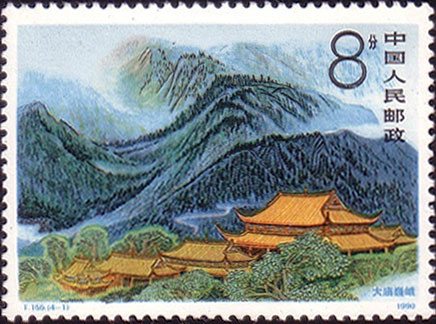 (4-1), Towering Temple, 8 fen, 54*40 mm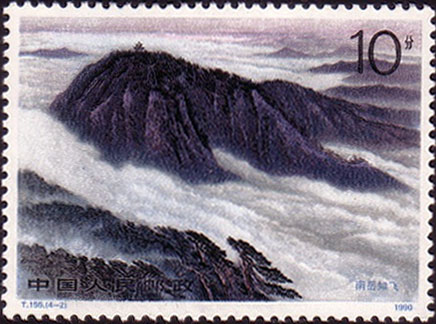 (4-2), Flying Nanyue Mountain, 10 fen, 54*40 mm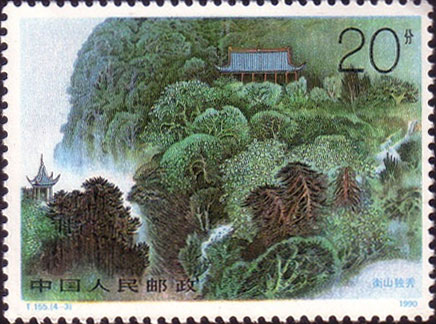 (4-3), Beautiful Mountain Heng, 20 fen, 54*40 mm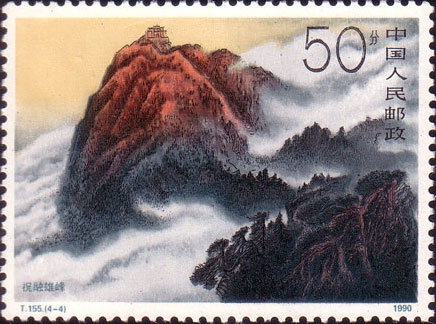 (4-4), Grand Mountain Zhurong, 50 fen, 54*40 mm
Technical details
Scott No: 2305-08
Serial number: T155
Values in set: 4
Date of issue: November 5, 1990
Denomination: 88 fen
Designers: Li Defu, Yang Wenqing
Size of stamps: 54*40mm
Perforation: 11
Sheet composition: 28 (4*7)
Printing process: Engraving and photogravure
Printing House: Beijing Postage Stamp Printing Works
Background
Mount Hengshan, near Hengyang City in Hunan Province, has 72 lofty peaks and winds for 400 km through seven counties and cities. The summit, Zhurong Peak, is 1,290 m. above sea level. Mount Hengshan is famous for its scenery and places of historic interest, such as the Seven Ancestors Daochang (place where Taoist rites are performed), and the Zhuling Holy Spot. Many celebrities and scholars, such as Li Bai, Du Fu and Zhao Qilin, composed poems, wrote books and gave lectures on the mountain, leaving a great many legends and stone inscriptions.
Share:

Price List
Item location: China
Ships to: Worldwide
*Shipping (via registered air mail) is based on subtotal of order. See detials below.
| | |
| --- | --- |
| Order Subtotal | S & H |
| $0.01---$15.00 | US $4.00 |
| $15.01---$60.00 | US $5.00 |
| $60.01---$100.00 | US $6.00 |
| $100.01---over | US $7.00 |
* 1) for special items shipping and handling cost may be included. 2) Other fast shipping is available.
To special order, please
let us know
what you are looking for. We will help you to meet your unique interests.