J158, Scott 2214 70th Anniv. of May 4 Movement(1919--1989)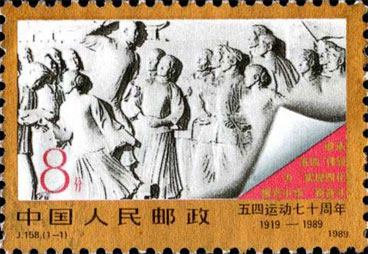 (1-1), 70th Anniv. of May 4 Movement(1919--1989), 8 fen, 40*27 mm
Technical details
Scott No: 2214
Serial number: J158
Values in set: 1
Date of issue: May 4, 1989
Denomination: 8 fen
Designers: He Jie, Li Yueyi
Size of stamps: 40*27mm
Perforation: 11
Sheet composition: 50(5*10)
Printing process: photogravure
Printing House: Beijing Postage Stamp Printing Works
Background
On May 4,1919,more then 3,000 students in Beijing gathered in front of Tian'anmen Gate to demonstrate against the betrayal of the northern warlord government at the Paris Peace Conference,demanding the safeguarding of national sovereignty and eliminating traitors in the country.This movement swept the whole country cousing a widespread response from the masses.The workers and businessmen allwent on strike and a nationwide movement against imperialism and the traitorous government came into being.It was know as the May Fourth Movement in China's history.With the unfolding of the movement,Marxism was disseminated in China.In 1927 the Communist Party of China(CPC) was founded,marking the entry of China's proletariat into the political arena.
Share:

Price List
Item location: China
Ships to: Worldwide
*Shipping (via registered air mail) is based on subtotal of order. See detials below.
| | |
| --- | --- |
| Order Subtotal | S & H |
| $0.01---$15.00 | US $5.00 |
| $15.01---$50.00 | US $6.00 |
| $50.01---$100.00 | US $7.00 |
| $100.01---$180.00 | US $8.00 |
| $180.01---over | US $9.00 |
* 1) for special items shipping and handling cost may be included. 2) Other fast shipping is available.
To special order, please
let us know
what you are looking for. We will help you to meet your unique interests.