T139, Scott 2221-24 The Achievements in Socialist Construction (3nd Series)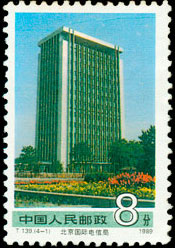 (4-1), Beijing Internation Telecom, 8 fen, 27*40 mm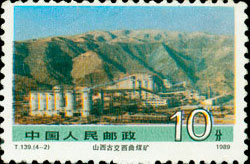 (4-2), Shanxi Gujiao Xiqu Colliery, 10 fen, 40*27 mm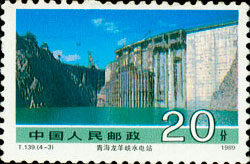 (4-3), Qinghai Longyangxia Power Dam, 20 fen, 40*27 mm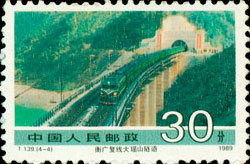 (4-4), Dayang Mountain Railway Tunnel, 30 fen, 40*27 mm
Technical details
Scott No: 2221-24
Serial number: T139
Values in set: 4
Date of issue: August 10, 1989
Denomination: 68 fen
Designers: Chen Xiaocun
Size of stamps:
Value 1: 27*40mm; Value 2,3,4: 40*27mm
Perforation: 11
Sheet composition:
Vakue 1:50(10*5); Value 2,3,4:50(5*10)
Printing process: Photogravure
Printing House: Beijing Postage Stamp Printing Works
Background
After the founding of the PRC, the CPC led the nation to make constant progress: triumphing over repeated threats, sabotages and armed provocation of imperialists and hegemonists, safeguarding the nation's independence and security; successfully achieving a great transfer of the Chinese society from new-democratism to socialism, accomplishing, in a general sense, the socialist transformation of the private ownership of the means of production; and launching the large-scale socialist economic construction in a planned way, and enabling Chinese economic and cultural causes to attain unprecedented development.
Beginning in 1979, China introduced reforming policies advocated by Deng Xiaoping and opened its door to the outside world. The "left deviation" errors made during the "cultural revolution" and before were redressed, and the focus of the work was shifted to the modernization drive. Great efforts were made to regulate the proportions within the national economy, reform economic and political systems and gradually establish a road to build socialist modernization with Chinese characteristics. The past two decades have witnessed substantial changes in China. It is the best period that China has ever experienced since 1949 and also the period when the people of China received the most substantial benefits.
Share:

Price List
Item location: China
Ships to: Worldwide
*Shipping (via registered air mail) is based on subtotal of order. See detials below.
| | |
| --- | --- |
| Order Subtotal | S & H |
| $0.01---$15.00 | US $5.00 |
| $15.01---$50.00 | US $6.00 |
| $50.01---$100.00 | US $7.00 |
| $100.01---$180.00 | US $8.00 |
| $180.01---over | US $9.00 |
* 1) for special items shipping and handling cost may be included. 2) Other fast shipping is available.
To special order, please
let us know
what you are looking for. We will help you to meet your unique interests.