J116, Scott 2000-02 20th Anniv. of Founding of Tibet Autonomous Region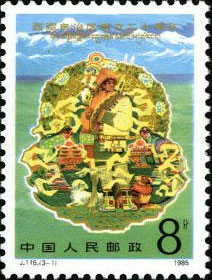 (3-1), Flourishing Tibet, 8 fen, 30*40 mm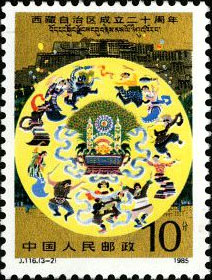 (3-2), Festivity, 10 fen, 30*40 mm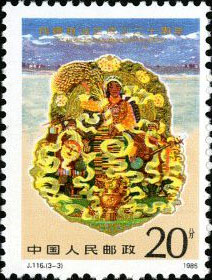 (3-3), Foison, 20 fen, 30*40 mm
Technical details
Scott No: 2000-2002
Serial number: J116
Values in set: 3
Date of issue: Sepember 1, 1985
Denomination: 38 fen
Designers: Zhu Tao, Gao Feng
Size of stamps: 30*40mm
Perforation: 11.5*11
Sheet composition: 50 (10*5)
Printing process: Photogravure
Printing House: Beijing Postage Stamp Printing Works
Background
The Tibet Autonomous Region, perched on the southwest Qinghai-Tibet Plateau, is a southwestern frontier region in china. At an average altitude of 4,000 metres, Tibet is the world's largest and highest plateau known as the 'Roof of the World'. The world's largest canyon the Yalung Zangbo Canyou, is in Tibet. In the mid-7th century, Songtsan Gambo established the unified Tubo dynasty and befriended the Tang Dynasty by marrying Princess Wencheng in 641 AD. In the mid-13th century, Tibet was incorporated as an administrative region of the Yuan Dynasty. Peaceful liberation came in 1951, and serfdom was abolished during the Democratic Reform of 1959. The Tibet Autonomous Region was officially established in 1965.
Breathtaking is hardly an adequate word for Tibet's landscape, which consists of snow-capped mountains of astonishing heights,primitive forests, vast steppes, mighty rivers, the world's highest lakes, and exotic wildlife and plants. Tibetans, who make up upwards of 90 percent of the local population, are born singers and dancers with a splendid civilization. Buddhist art thrives, and among the region's 2,700 temples are such famous ones as the Potala Palace, the Norbulinka Palace, the Jokhong Temple, and the Tashilhunpo Monastery.
Share:

Price List
Item location: China
Ships to: Worldwide
*Shipping (via registered air mail) is based on subtotal of order. See detials below.
| | |
| --- | --- |
| Order Subtotal | S & H |
| $0.01---$15.00 | US $5.00 |
| $15.01---$50.00 | US $6.00 |
| $50.01---$100.00 | US $7.00 |
| $100.01---$180.00 | US $8.00 |
| $180.01---over | US $9.00 |
* 1) for special items shipping and handling cost may be included. 2) Other fast shipping is available.
To special order, please
let us know
what you are looking for. We will help you to meet your unique interests.