J122, Scott 2016-17 90th Anniv. of Birth of Zou Taofen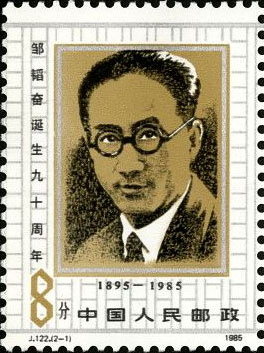 (2-1), Portrait of Zou Taofen, 8 fen, 30*40 mm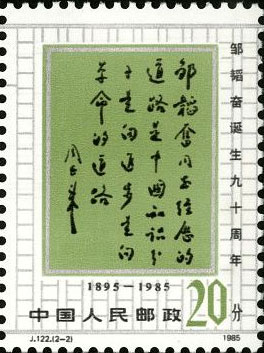 (2-2), The epigraph made by Zhou Enlai to commemorates Zou Taofen, 20 fen, 30*40 mm
Technical details
Scott No: 2016-17
Serial number: J122
Values in set: 2
Date of issue: November 5, 1985
Denomination: 28 fen
Designers: Lu Tianjiao
Size of stamps: 30*40mm
Perforation: 11.5*11
Sheet composition: 50 (10*5)
Printing process: Photogravure
Printing House: Beijing Postage Stamp Printing Works
Background
Zou Taofen was a well-known journalist from early 20th century Chinese history. As the editor of China's top-selling weekly magazine back then, he used his pen to try to save his country from the Japanese invaders.
Zou Taofen, whose former name was Zou Enrun, was born in East China's Fujian Province in 1895. In 1926, he became editor-in-chief of Life Weekly and began his great career in journalism.
When Zou presided over Life Weekly, he tried to reflect what were the social realities of the day in China. Because of its reforming spirit, the magazine's popularity grew and its circulation reached 155,000 copies, ranking it No.1 throughout the country.
When the 9.18 Event broke out in 1931 (the so-called "Mukden Incident" and the Japanese invasion of Manchuria), Zou devoted himself to the War of Resistance against Japan. The weapons he used to try to save China were his journalism and the publishing of books.
He was the first to publish articles exposing the atrocities committed by the Japanese army and he deprecated the policy of non-resistance fostered by the Kuomintang (KMT).
When the Japanese army attacked Shanghai, Zou launched an appeal in Life Weekly for donations to anti-Japanese organizations. He also founded the "Life" Hospital for the wounded in the war.
In July, 1932, Zou set up the Life Bookstore. Life Bookstores translated and published a large number of progressive books and became an important cultural base from which to spread Marxism.
Zou went into exile in 1933 because of Kuomintang persecution. On his return in 1935 he established "Popular Life" to continue his struggle for Chinese victory against the Japanese invaders but he was arrested by the Kuomintang in 1936. In 1937 on his release, he published, "Fighting the Invading Army","Nationwide Resistance War", "Popular Life". He died in 1944 from brain cancer.
Share:

Price List
Item location: China
Ships to: Worldwide
*Shipping (via registered air mail) is based on subtotal of order. See detials below.
| | |
| --- | --- |
| Order Subtotal | S & H |
| $0.01---$15.00 | US $5.00 |
| $15.01---$50.00 | US $6.00 |
| $50.01---$100.00 | US $7.00 |
| $100.01---$180.00 | US $8.00 |
| $180.01---over | US $9.00 |
* 1) for special items shipping and handling cost may be included. 2) Other fast shipping is available.
To special order, please
let us know
what you are looking for. We will help you to meet your unique interests.