J114, Scott 1996-97 90th Anniv. of Birth of Xu Beihong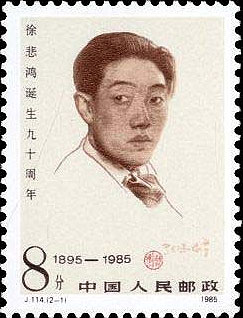 (2-1), Self-portrait of Xu Beihong, 8 fen, 30*40 mm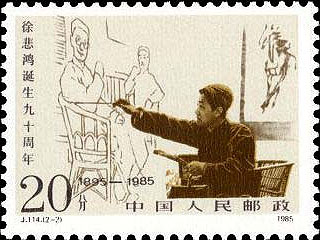 (2-2), Painting, 20 fen, 40*30 mm
Technical details
Scott No: 1996-1997
Serial number: J114
Values in set: 2
Date of issue: July 19, 1985
Denomination: 28 fen
Designers: Li Wei
Size of stamps:
30*40mm for Value 1;
40*30mm for Value 2
Perforation: 11.5*11 for Value 1;11*11.5 for Value 2
Sheet composition:
50 (10*5) for Value 1;
50 (5*10) for Value 2
Printing process: Photogravure
Printing House: Beijing Postage Stamp Printing Works
Background
Xu Beihong is a great artist in the modern history of China. He was born in the countryside of Jiangsu province in 1895.
  His parents were so poor that they had no money to buy Beihong toys. He had to play with the animals around and began to love them. He always watch them carefully and tried to draw them with fingers,pencils or writing brush.He worked very hard .
  When he was already a young man, Xu Beihong went to France to learn drawing from the French artists.
  He became a well-known artist both in China and in the world.In his later years he kept a good number of cats not only because he loved them, but also because he wanted to draw them. The artist was always watching the cats. He drew them in a lively way.
  Once you have a good look at the artist's drawing of cats, it seems that they are alive, running to you out of the picture: Some of them are playing in the tree or on a stone, others are sitting under a tree. Every cat looks lovely.
  Xu Beihong drew cats as well as other animals in order to express his love for the motherland and the people. If you look carefully at the beautiful pictures of cats, you could find some of them are happy, some sorry, and others angry.
  People only know Xu Beihong's drawing of horses, but the artist himself would rather enjoy his drawing of cats.
Share:

Price List
Item location: China
Ships to: Worldwide
*Shipping (via registered air mail) is based on subtotal of order. See detials below.
| | |
| --- | --- |
| Order Subtotal | S & H |
| $0.01---$15.00 | US $5.00 |
| $15.01---$50.00 | US $6.00 |
| $50.01---$100.00 | US $7.00 |
| $100.01---$180.00 | US $8.00 |
| $180.01---over | US $9.00 |
* 1) for special items shipping and handling cost may be included. 2) Other fast shipping is available.
To special order, please
let us know
what you are looking for. We will help you to meet your unique interests.