2005-16, Scott 3446-47 The 60th Anniversary of Victory of the Chinese People's War of Resistance against Japanese Aggression and the World Anti-Fascist War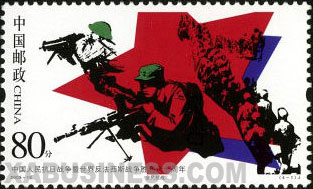 (4-1), Whole Nation Devoted to the Anti-Japanese War, 80 fen, 50*30 mm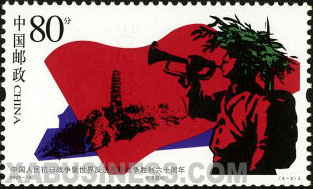 (4-2), Pillar of Strength, 80 fen, 50*30 mm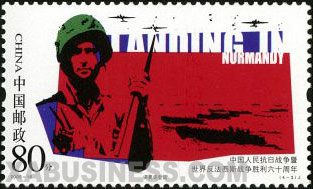 (4-3), Normandy Landing, 80 fen, 50*30 mm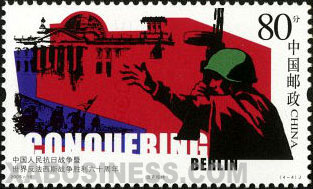 (4-4), The Capture of Berlin, 80 fen, 50*30 mm
Technical details
Scott No: 3446-47
Serial number: 2005-16
Values in set: 4
Date of issue: August 15, 2005
Denomination: 320 fen
Designer: Wujiang
Size of stamps: 50*30 mm
Perforation: 13*12.5
Sheet composition: 8(2 sets)
Printing process: Offset
Size of S/S: 80*120 mm
Stamp of S/S: 30*50 mm
Printing process of souvenir: Gravure
Printing House: Beijing Postage Stamp Printing Works
Background
The World Anti-Fascist War ended 60 years ago was a war of life-and-death fought by the world people against aggressions to restore peace. It was an unprecedented great war of justice against evil, light against darkness. Its victory testified to the invincibility of peace and justice. The Chinese People's War against Japanese Aggression was an integral part of it. The whole Chinese nation fought unrelentingly against the Japanese invaders, composing a glorious chapter of people's war. The victory of the Anti-Japanese War made an enormous coutribution to the victory of the world people against Fascism as well as the great cause of world peace. We shall never forget this war and our highest consideratin goes to the martyrs who sacrificed their lives for peace and justice of the world.
Share:

Price List
Item location: China
Ships to: Worldwide
*Shipping (via registered air mail) is based on subtotal of order. See detials below.
| | |
| --- | --- |
| Order Subtotal | S & H |
| $0.01---$15.00 | US $5.00 |
| $15.01---$50.00 | US $6.00 |
| $50.01---$100.00 | US $7.00 |
| $100.01---$180.00 | US $8.00 |
| $180.01---over | US $9.00 |
* 1) for special items shipping and handling cost may be included. 2) Other fast shipping is available.
To special order, please
let us know
what you are looking for. We will help you to meet your unique interests.