1995-22, Scott 2622-23 The 50th Anniversary of the United Nations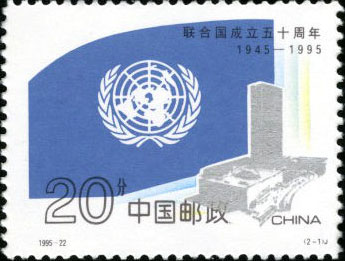 (2-1), Flag and Building of UN, 20 fen, 40*30mm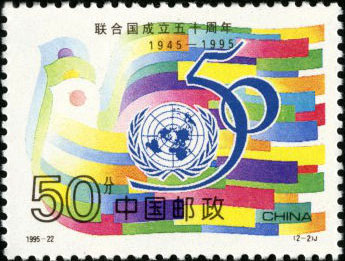 (2-2), Mark of 50th Anniv. of the Founding of UN, 50 fen, 40*30mm
Technical details
Scott No: 2622-23
Serial number: 1995-22
Values in set: 2
Date of issue: October 24, 1995
Designers: Yan Bingwu and Qin Mingliang
Size: 40*30mm
Perforation: 12
Sheet composition: 50
Printing process: offset
Background
The United Nations is a general international organization founded after World War II.
In August-October 1944, China, the former Soviet Union, the United States and Britain passed a proposal on the establishment of a general international organization and suggested that the above-mentioned organization be named the United Nations.
At a meeting held in San Francisco, the United States, in April-June 1945, 50 countries including China, the former Soviet Union, the United States and Britain (Poland was added later) signed the United Nations Charter. On October 24 of the same year, the United Nations was officially founded. The 51 signatory countries of the United Nations Charter became founding members of the United Nations.
According to the stipulations of the United Nations Charter, the United Nations is aimed at "keeping international peace and security", "developing the friendly relations in the international community in line with the principle of respection the right of equality and self-determination of the people", and "promoting international cooperation". The major institutions of the United Nations include General Assembly, Security Council, Economic and Social Council, Trusteeship Council, International Court of Justice and Secretariat. A secretary-general in the Secretariat is the chief administrator of the United Nations, serving a term of office for five years that can be renewed. The present secretary-general is Boutros Ghali from Egypt. The official languages and working languages of the United Nations are Chinese, English, French, Russian, Spanish and Arabian. The United Nations is headquartered in the United Nations Mansion in the Manhattan District of New York, the United States. In Geneva, Switzerland, thee are representative offices of the United Nations.
A country that applies for membership of the United Nations should be recommended by the Security Council and passed by a two-thirds majority of the General Assembly.
Share:

Price List
Item location: China
Ships to: Worldwide
*Shipping (via registered air mail) is based on subtotal of order. See detials below.
| | |
| --- | --- |
| Order Subtotal | S & H |
| $0.01---$15.00 | US $4.00 |
| $15.01---$60.00 | US $5.00 |
| $60.01---$100.00 | US $6.00 |
| $100.01---over | US $7.00 |
* 1) for special items shipping and handling cost may be included. 2) Other fast shipping is available.
To special order, please
let us know
what you are looking for. We will help you to meet your unique interests.