T144, Scott 2249-53 West Lake in Hangzhou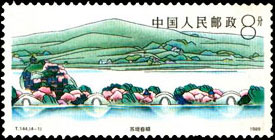 (4-1), West Lake, 8 fen, 60*30 mm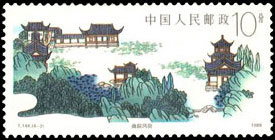 (4-2), West Lake, 10 fen, 60*30 mm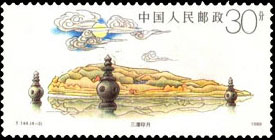 (4-3), West Lake, 30 fen, 60*30 mm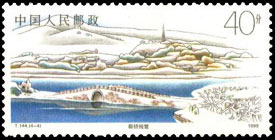 (4-4), West Lake, 40 fen, 60*30 mm
Technical details
Scott No: 2249-53
Serial number: T144
Values in set: 4
Date of issue: November 25, 1989
Denomination: 88 fen
Designers: Liu Xiangping
Size of stamps: 60*30mm
Perforation: 11
Sheet composition: 30(3*10)
Printing process: Photogravures
Printing House: Beijing Postage Stamp Printing Works
Background
Located in the South of the Yangtze Delta, west to the Hangzhou Bay, south to the Beijing-Hangzhou Grand Canal, and to the lower reaches of Qiantang River, Hangzhou is an important central city of the Yangtze Delta and is the transportation hinge in the southeast China. The geographical coordinate of the city center is between the north latitude of 30 16' and east longitude of 120 12'. Belonging to the subtropical monsoon climate with mild and moist weather and four distinct seasons, Hangzhou is a city with plenty of sunshine and rainfall. The average yearly temperature is 16.2íŠ, with the average summer temperature being 28.6íŠ, and the average winter temperature being 3.8íŠ. There are 230-260 days of non-frost period. The average yearly rainfall is 1435 millimeters, and the average relative humidity is 76%. Situated at the center of Hangzhou, West Lake is 3.3 kilometers in length from north to south and 2.8 kilometers in width from east to west, with an original water coverage of 5.66 square kilometers. Lately, it has expanded to 6.5 square kilometers due to the "West Lake Westward" project, thus has generally equaled to the water area 300 years ago. After the connecting of West Lake and Qiantang River, each day about 300,000 cubic meters water was led to West Lake from the Qiantang River, renewing the water monthly, while it was previously renewed yearly. In addition, the transparency has been increased from 60 centimeters to 120 centimeters.
Share:

Price List
Item location: China
Ships to: Worldwide
*Shipping (via registered air mail) is based on subtotal of order. See detials below.
| | |
| --- | --- |
| Order Subtotal | S & H |
| $0.01---$15.00 | US $5.00 |
| $15.01---$50.00 | US $6.00 |
| $50.01---$100.00 | US $7.00 |
| $100.01---$180.00 | US $8.00 |
| $180.01---over | US $9.00 |
* 1) for special items shipping and handling cost may be included. 2) Other fast shipping is available.
To special order, please
let us know
what you are looking for. We will help you to meet your unique interests.