J145, Scott 2132-33 120th Anniv. of Birth of Cai Yuanpei

(2-1), Portrait of Cai Yanpei, 8 fen, 40*30 mm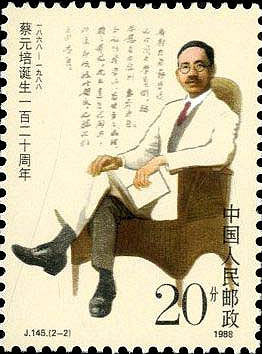 (2-2), Portrait of Cai Yanpei, 20 fen, 40*30 mm
Technical details
Scott No: 2132-33
Serial number: J145
Values in set: 2
Date of issue: January 11, 1988
Denomination: 28 fen
Designers: Yan Baozhen
Size of stamps: 30*40mm
Perforation: 11.5*11
Sheet composition: 50(10*5)
Printing process: Engraving and photogravure
Printing House: Beijing Postage Stamp Printing Works
Background
Cai Yuanpei (1868-1940) was born in Shaoxing, Zhejiang. His job as a proofreader at Guyue Library in his teenage years enabled him to read classics extensively. After the Sino-Japanese War of 1894-1895, he began to expose himself to western knowledge. He sympathized with the reform campaign. In 1899 he came back to Shaoxing and held the post of Supervisor at Shaoxing China West School. In July 1902, he went to Shanghai and taught at Nan Yang College. In 1903, he organized China Education Society in collaboration with Jiang Guanyuan and other people. He was chief steward of the organization. He also set up a school and an association for women in Shanghai where he served as general manager. In 1904 he went to study in Germany. In 1912 when the Republic of China was founded, Cai Yuanpei served as education minister for the provisional national government in Nanjing. He was a champion of adopting the western education system and promoting a co-education for boys and girls in the same school. He was the very person who ushered the western education system into China. After the failure of the Second Revolution, he exiled himself to France, where he and Li Shiceng co-founded an organization for Chinese students engaged in work-study programs. In 1917 he came back and served as president of Beijing University. He advocated the New Culture Movement and called for academic researches. He supported studentsí» patriotic activities in the May Fourth Movement and rescued arrested students in many ways. After he was forced to resign, he went on a few lecture and study trips to France and GB. After the September 18 Incident, Cai called for efforts against the Japanese invasion and advocated the cooperation between the Communist Party and the Kuomintang. In 1932, he founded and organized China League for Protection of Civil Rights in collaboration with Song Qingling and Lu Xun in patriotic efforts to fight the invading Japanese troupers. He died of illness in Hong Kong on March 5, 1940 and was buried in a Chinese cemetery in Hong Kong.
Share:

Price List
Item location: China
Ships to: Worldwide
*Shipping (via registered air mail) is based on subtotal of order. See detials below.
| | |
| --- | --- |
| Order Subtotal | S & H |
| $0.01---$15.00 | US $5.00 |
| $15.01---$50.00 | US $6.00 |
| $50.01---$100.00 | US $7.00 |
| $100.01---$180.00 | US $8.00 |
| $180.01---over | US $9.00 |
* 1) for special items shipping and handling cost may be included. 2) Other fast shipping is available.
To special order, please
let us know
what you are looking for. We will help you to meet your unique interests.