T115, Scott 2085a,87a Kites (2nd Set)

(4-1), Eagle, 8 fen, 30*40 mm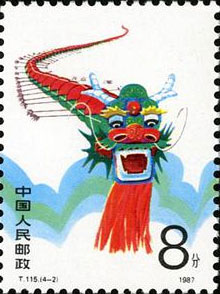 (4-2), Chinese dragon, 8 fen, 30*40 mm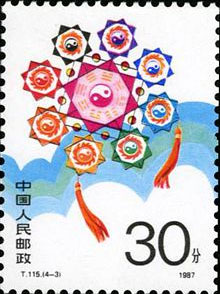 (4-3), the Eight Diagrams, 30 fen, 40*40 mm

(4-4), Phoenix, 30 fen, 30*40 mm
Technical details
Scott No: 2085a,87a
Serial number: T115
Values in set: 4
Date of issue: April 1, 1987
Denomination: 76 fen
Designers: Pan Keming
Size of stamps: 30*40mm
Perforation: 11.5*11
Sheet composition: 50(10*5)
Printing process:Photogravure
Printing House: Beijing Postage Stamp Printing Works
Background
The kite, a Chinese invention, has been praised as the forerunner of the modern aeroplane. In the pavilion of aircraft of the National Aeronautics and Space Museum, Washington D. C., a plaque says, "the earliest aircraft are the kites and missiles of China".
The kite is mainly, but not only, a plaything. It has contributed to science and production. The first planes were shaped after the kite. In 1782, Benjamin Franklin, noted American scientist and statesman, studied lightning and thunder in the sky with the help of a kite and then invented the lightning rod. Kites are still used by some fishermen to lay bait in the sea to attract fish, or by photographers to take pictures of bird's-eye view from high altitude.
Share:

Price List
Item location: China
Ships to: Worldwide
*Shipping (via registered air mail) is based on subtotal of order. See detials below.
| | |
| --- | --- |
| Order Subtotal | S & H |
| $0.01---$15.00 | US $5.00 |
| $15.01---$50.00 | US $6.00 |
| $50.01---$100.00 | US $7.00 |
| $100.01---$180.00 | US $8.00 |
| $180.01---over | US $9.00 |
* 1) for special items shipping and handling cost may be included. 2) Other fast shipping is available.
To special order, please
let us know
what you are looking for. We will help you to meet your unique interests.